Delta Separation

Company Strengths
Alfa Laval Oil Purifiers & Mitsubishi Oil Purifiers & Westfalia Oil Purifiers
& Alfa Laval Centrifuge
Company Data
Profile: Owner / Operator
Situation: India.
Region of activity: Worldwide


About Company

We "Delta Separation" are Trusted Supplier of Alfa Laval, Mitsubishi, and Westfalia Centrifuge Oil Purifiers, Oil Separator, "Delta Separation" provides Centrifugal Separator, Various High Quality Centrifugal Separator Products.
We offer Premium Quality & Genuine Parts with High Standard.
We supply best Centrifuge, separator Alfa Laval Centrifuge Spare Parts over the world.
Our supplied centrifuge used to purify & clarify Bio diesel Oil, lube oil, fuel oil, transformer Oils/ Fish Oil /Crude Oil /Marine Diesel Oil, Furnish Oil Crude oil, Palm oil, Coconut oil, waste vegetable oil, sludge oil, WVO, UVO, LO, FO,
Complete Centrifuge, Separator with Shortest Delivery notice at every Corner of the World.
Company advs:
Sell

GEA Westfalia Separator OSA, OSB, OSC (used)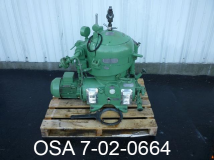 - OSA 20 Diesel Oil Separator Centrifuge: Max bowl speed – 7510 rpm, Direct drive configuration 11 kW... (15 hp), 240/380/440/3/60 drive motor.
- OSB 35 Oils Separator Centrifuge, OSC 4-02-066 Mineral Oil Separator, OSC-50 Lube Oil Separator&Centrifuge, OSA 35.