Henan Aida Machinery Co., Ltd

Company Strengths
Filter manufacturer & Industrial hydraulic filters & Compressed filters


Company Data
Profile: Owner / Operator
Situation: China.
Region of activity: Worldwide


About Company

Henan Aida Machinery Co., Ltd specializes in the R&D, manufacturing, distributing of machinery equipment. We have focused on filtration line for 18 years with superior technical team, excellent after-sale service.

Aida passed through ISO9001-2000 quality certificate. We always insist on the principle "Quality is everything" to serve worldwide client throughout the way.

Our main products are filtration units, industrial hydraulic filters, compressed filters. Our equipment's ouality perfectly matches the products of famous brands like Pall, Hydac, Parker, Atlas Copco, Ingersoll Rand.

Most of our products are exported to South America, Eastern&Southern Asia and Africa (to 26 countries). We are commited to providing products at the most competitive price, unquestionable quality, timely delivery and superior after sale service. We aim to establish stable and strategic partnership with porfessionals worldwide.
Company advs:
Sell

Replacement Hydraulic Filters Elements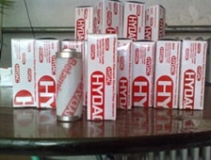 - Internormen, Hydac, Parker, Pall, Rexroth, MP Filtri, Filtrec, Stauff, Vickers;
- Indufic, ARGO, Hypro, Taisei Kogyo, EPE, UFI Standard Series.