Heeyas Ltd.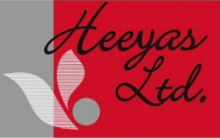 Company Strengths
MAN B&W L S 62 74 84 type Stock & Mitsubishi 45 52 60 type Stock & Sulzer RTA RND type Stock
& Deutz 358 540 12V528 Stock & MAK 452AK M35 551AK Stock & Wartsila 824TH Stock
& BBC VTR, RR type turboch. Stock & MAN NA, NR type turboch. Stock & Mitsubishi MET type turboch. St. & MAN B&W TL type turboch. Stock & Napier R510A C045X S610B Stock & Hydraulics, Generators Stock & Purifiers, Separators Stock & Compressors, Governors Stock & Oil Mist Detectors Stock & Marine Control Automation Stock
Company Data
Profile: Seller / Repair
Situation: India.
Region of activity: Worldwide


About Company

We are one of the largest stockiest and leading exporter of Marine equipments obtained from Ship breaking industry With our own facility of 20,000 sq ft we stock different equipments and re condition them as per industry standard requirement.
Directors and Staff of Heeyas Ltd have collective experience of more than 50 years in Shipping industry. Our Network is based in India, UK, and UAE. Our Logistic Department manages even door delivery for traders or owners at any port of world. Ship breaking last 20 years we procure goods from ships.


Product:
Engines:
- MAN B&W: L50MC, L60MC, L70MC, S50MC, S60MC, S70MC, 62EF, 74EF, 84EF
- Mitsubishi: 45LA, 60LA, 52HA, 60HA, 45-75, 45-80D, 45-90D, 52-105D
- Sulzer: RTA58, RTA68, RND76M, RND68
- Deutz: 12V528, 540, 358
- MAK: 551AK, M35, 452AK
- Wartsila: 824-TH

Turbochargers:
- BBC: VTR, RR type
- MAN: NA, NR type
- Mitsubishi: MET type
- MAN B&W: TL type
- Napier: R, C, S type

Hydraulics:
- Fukushima: G, FG, MA, FMA, MGA, DG type
- IHI: HPS, HPD, HK, HKA, HLA, HLS, HNS, HL, HVL type
- Hydromatic: A2V, A4V, A2F, A2FM type

Generators:
- Alpha B&W, MAN B&W, Caterpillar, Mercedes, Crepelle, MWM, Cummins, Scania, Daihatsu, SKL, Deutz, Stork, Volvo Penta, MAK, Wartsila, MAN, Yanmar

Purifiers and separators (We are one of the leading stockiest of reusable marine equipments. We stock Purifiers and Heat Exchangers and can even procure at reasonable rates for any goods required):
- Alfa Laval: MAB, MAPX, MOPX type

Compressors:
- York: JS, Y49, Y53, G, H, F, 2B series
- Trane: E, F series
- Diakin: 75, 55, 58, MC, BH series
- Grasso: RC11, RC12, RC9, K110, KC, KA85, K85, PC2, K20, 70, S70, 80 series
- Sabroe: S, L, E, ASMC, CMO, SMC-65, ASMC-65, BFO, BFK, BFM, PKO series
- Stal: U, P, ARE/XRE/FRE series
- Frick: Eclipse/Booster, HGI Ammonia, Bitzer G series
- Block: F&FK, Mycom A&B series
- Gram: 75, 100 series
- Copeland: 6R series

Governors (These are the all speed control governors for the diesel engines, steam turbines and gas turbines for main engines and auxiliary engines whose speeds are set manually, air pressure, electrical motor, lever, etc.):
- Woodward: UG, PGA, PG-PL, PSG, SG series
- Regulateurs Europa: 1101, 1102, 1103, 1104, 1104A, 1131
- Diesel Kiki: RHD6 series

Oil Mist Detectors:
- Graviner Mark: IV, V, VI series
- Schaller Visatron: 115/87, 215/87
- Diahatsu: 9MD
- QMI

Life Rafts, Life Boats and Life Saving Equipment (brands that we have in our stock):
- CSM, DSB, Fujikura, KHA, RFD, Viking, Unitor, Zodiac

Marine Control Automation:
- Actuators
- Control valves
- Solenoid valves
- Butterfly valves
- Regulators
- Air Reducing station
- Maneuvering system

Boll and Kirch Filters and Filter Candles.
Heat Exchangers of Alfa Level.
Company advs:
Sell

Mirrlees Blackstone K Major Diesel Engine spares (New)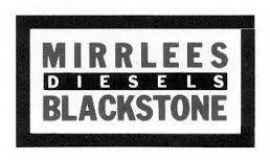 Valve, Crown, Nozzle, Bearing, Bush, Rocker, Oil Ring, Piston Ring, Valve Seat, etc.
For all list of spares, quantity and other information see attached PDF file.
Sell

Mirrlees Blackstone ESL 4 & Mirrlees Blackstone ESL 6 spares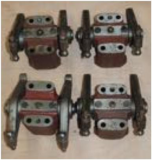 Rocker Arm Assembly Complete, Injector, Fuel Pump, Valve Guide, Nozzles, Main Bearing, etc.
See PDF file with a complete list of spare parts and their number and photos (quality).