Thames Diesel Injection Parts Ltd.

Company Strengths
MAN B&W 23 series, 6L80 Stock & Fuel injection equipment recond. & MAK M25(C), M43(C) Stock
& MAN T23H, T23LH, T23LH-4E & MAN L23/30, L23/30H
& Hamworthy, Sperre & Woodward official distributor & OMC official distributor & Premech distributor & Kidde Graviner Oil Mist Detector & MAN B&W 5L80 & Oily Water Separators HS type & Sewage Treatment Unit ST type & STU Associated compressors & Ultrasonic cleaning machines
Company Data
Profile: Seller / Repair
Situation: United Kingdom.
Region of activity: Worldwide


About Company

Since the inception of Thames Diesel Injection Parts in 1988 continuous expansion has demanded ever larger premises to handle the increasing volume of business. Our spectacular growth has been achieved by a high level of customer service, a competitive pricing structure and stock availability of a wide range of parts.
Specialising in fuel injection, the company supplies virtually any marine and industrial equipment and spares. Diesel engines, compressors, pumps, separators, purifiers, electrical and control equipment and associated parts are all within our scope. Please see our products pages for details.
Through in-house associate companies we market diesel injection test equipment ranging from small injector tests to large benches for workshop applications.
We also have a first class reconditioning facility fully equipped to handle all types of diesel injection equipment. We repair Pumps, Injectors, Elements, Nozzles, Recirculation Valves, Pressure Balancing Valves etc.
In 2015 Thames were proud to have been appointed as an official distributor for Graviner Oil Mist Detectors, now part of UTC. We are excited with this opportunity and have invested in a large stock holding to ensure off the shelf availability of spares for the MK6 and MK7 units and complete MK7 systems to replace the older MK5 units.

Products:
1. Diesel fuel injection parts:
- Woodward Diesel Systems official distributor. Formerly known as Lucas Bryce, Woodward are one of the worlds leading manufacturers of original fuel injection equipment, fitted by many of the foremost engine builders
- OMC the UK distributor and Representative Agent for Dubai. Manufacturer of top quality replacement fuel injection equipment to suit a wide range of European engines
- Premech the UK distributor. Premech a high quality Swiss manufacturer of Fuel injection equipment to suit various applications including Wartsila, Sulzer, MAN, B+W and Pielstick engines.

2. Engine spares:
- MAN B&W 23 series:
Thames Diesel hold a comprehensive stock of spares to suit MAN B&W 23 series engines. A significant investment in stock ensures lead times are at a minimum. The range incorporates heads, liners, pistons, valves and thousands of consumable parts. Parts to suit models MAN T23H, T23LH, T23LH-4E, L23/30, L23/30H
- Bergen models: K-Type (KVG-12, KVGB-12, KVMB-16, KVGB-16, KRMB-9); L-Type (LSMC-6); B-Type (BRM-6, BRM-8,); B32:40/C25:33
- MAK models: M25(C) and M43(C)

3. Oil Mist Detectors:
Thames Diesel are an authorized distributor for Kidde Graviner Oil Mist Detectors models: Mark 5, Mark 6, Mark 7. Thames can supply complete systems and technical information to upgrade your old Graviner Mk5 or MK 6 unit to the latest Graviner MK7 model. Advise details of your existing system including, engine make, model, the number of sampling points and cable lengths for each detector and we will send you our recommendations.

4. Pumps, compressors, separators, oily water separators, sewage treatment unit spares:
- Hamworthy Compressors: 2MF6, 2MF64, 2SF3, 2SF34, 2SF4, 2SF42, 2TF5, 2TF54, 2TM6, 2TM61, 2TM62, 2TM63, V200, V250
- Hamworthy Pumps: 5x3V, 5x4V, B5x3VP, B5x4VM, B8x6VM, DB10x10V, DB10x10VM, DB16x16V, DB24x24V
- Oily Water Separators: HS1, HS2.5, HS5
- Sewage Treatment Unit: ST1, ST4, ST6, ST8, ST10, ST15, ST20, ST25, ST30
- STU Associated compressors: DLT6, DLT15, DLT25, DLT40, R17, R25, R40, 0822-P702H-R80, 0822-P706H-R80, 1022-P702H-ER80, 3040-P118
- Sperre Compressors: LL2/77, LL2/90, LL2/105, LL2/120, LL2/140, LL2/160, HLH/119, HLF2/77, HL2/90, HL2/105, HL2/120,, HL2/140, HL2/160, HV1/85, HV1/120, HV1/140, HV1/156, HV2/200, HV2/210, HV2/219, HV2/220, HV2/240, HV2/270, HV2/285, HV2/300

5. Ultrasonic cleaning machines
Company advs:
Sell

Sulzer RND 68 & Sulzer RND 76 Nozzles (Stock)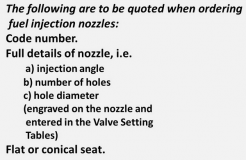 For more details and price see attached PDF file.