Malwi Marine Enterprises

Company Strengths
Engine parts, Hydraulics & Air Compressor, Purifier, Pump & Compressor, Turbocharger
& Governor, Fresh Water Generator & Heat exchanger & Recodition / Refurbishing
& In-situ cylinder cover repair & Cast Iron Welding & Metal Spray re-building
Company Data
Profile: Seller / Repair
Situation: India.
Region of activity: Worldwide


About Company

MALWI MARINE is worldwide recognized as the most reliable supplier from India and Dubai for Recondition and Second-hand Ship Machinery and Engine Parts since 1993.

About Malwi Marine:
- STOCK: Extremely huge stock of engine parts and ship machinery in INDIA & DUBAI.
- MARINE WORKSHOP: Most reputed and experienced near Alang ship breaking yards in India, workshop is approved by class for various inspections and testing.
- REPRESENTATION: of OEM and manufacturers from Japan, Europe and Korea for U.A.E. region.

Scope of Supply:
- ENGINE PARTS: Main components such as Crankshaft, Block, Bedplate, Cylinder Cover, Connecting Rod, Liner, Piston, Fuel Pump, Valve Spindle, Seat, Aux. Pumps etc. (Extremely huge stock for main components of engines, 2-Stroke and 4-Stroke, Slow speed and Medium speed engines, more than 2000 important heavy parts of various makes and models in ready stock)
- SHIP MACHINERY: Air Compressor, Purifier, Hydraulics, Ref. Compressor, Pump, Turbocharger, Governor, Fresh Water Generator, Heat exchanger and many more.
- NAVIGATION & AUTOMATION: can be supplied in collaboration with our expert colleague in this field.

Technical Capabilities:
- CLASS INSPECTION: Certified Engineers, Instruments and Process, to fulfil norms of any in-house Class Inspection.
- ALL KIND OF N.D. TEST: In-house excellent testing facilities by ASNT Level II approved engineers.
- RECONDITIONING / REFURBISHING: Expertise for various engine parts and ship machinery.
- REPAIR FACILITY: Extensive Machining Facility including In-situ cylinder cover repair, Cast Iron Welding, Metal Spray re-building and many more.
Company advs:
Sell

Complete Used Fuel Pumps for MAK M20 Engines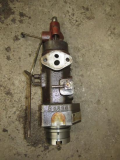 1992 up to 2000) for sell. Available 50+ PCS in stock (Ex. works India)
at only 50 USD per one. Price is valid for order of minimum 10 PCS. We
also have large quantity of other main components of Mak M20 in stock.

Sell

Sulzer 4S20 secondhand Crankshaft for sell


Item: Crankshaft (2 PCS).
Condition: Secondhand and in good condition, Standard size crankshaft.
Price: 7000USD per each (Ex. Works).


Sell

MAN NA70 Turbocharger for sell

W/No. AC6C70154
Rpm: 12200
Year: 2001
Condition: Secondhand and in good condition.
Price: USD 8500 for 1 PCE, Ex. Works