Samrat Marine

Company Strengths
Daihatsu, Yanmar, Man, Sulzer & Man B&W, Wartsila, Mak, Deutz & Turbochargers & spares
& Oil Separators & spares & Air Compressors & spares & Navigation
Company Data
Profile: Seller / Repair
Situation: India.
Region of activity: Worldwide


About Company

We SAMRAT MARINE established in 2000, we introduce ourselves as Exporter; Suppliers & Stockist for New and Recondition marine engines Spare Parts.
We are glad to introduce ourselves as one of the leading suppliers of Used Marine Machinery, Equipment & Spares based at Alang – the largest ship breaking site in the world.

Brands:
DAIHATSU, YANMAR, MAN, B&W, SULZER, WARTSILA, MAK, DEUTZ

Products:
1. SPARE PARTS : Main Engines and ,Auxiliary Engine , , piston crowns, cylinder heads, piston rings, bearings ,Crank shaft, valve, innate and exhaust seat ,bed plate and Block etc.

2. Turbochargers, Complete Turbocharger & Bearing, Rotor Shaft, Sealing Bush, Nozzle Ring,

3. Oil Separators,c Complete Oil Separators & Parts

4. Air Compressors, Complete Air Compressor & Parts

5. NAVIGATIONAL: GYRO COMPASS (COMPLETE SET), RADAR, GMDSS, VDR, SVDR, ECHO SOUNDER, NAVTEX, WEATHER FAX, MAGNETIC COMPASS, WIND SPEED METER etc.
Company advs:
Sell

MAK M 20 Diesele Engine spares for sell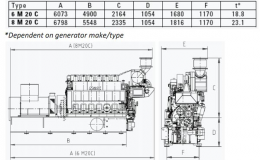 Condition: original and brand new parts.