Sea Master Trading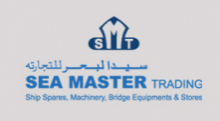 Company Strengths
Bergen RSGB type Stock & Bergen KRG type Stock & Purifiers, Turbochargers S.
& Compressors, Governors S. & Hydraulic equipments, Liners S. & Generators, Pumps, Pistons S.
& Hydraulic motor, Turning gear S. & Oil water seprators Stock & Cylinder covers Stock
Company Data
Profile: Seller / Repair
Situation: United Arab Emirates.
Region of activity: Worldwide


About Company

SEA MASTER (an off-shoot of M/s KHYBER FACTORIES) commenced business in 2002 in the U.A.E. with a small office & a restricted stock of small Ship Machinery & Navigation Spares . During that period the Gulf was an almost virgin market for second hand Machinery and Shipping companies especially, very much restricted their procurement activities with New Machinery & were averse to purchase Second hand Spares.
With much diligence, pursuance & commitment to quality, SEA MASTER has today made a niche in the market for Second hand Spares in these 5 years and is growing every year with more clientele (Shipping & Trading companies) being added to its list not only from the Gulf but also from Europeon and Asian countries such as Greece, Italy, France, Singapore & Malyasia.
Though considered as a firm with limited facilities, today SEA MASTER stands as one of the trusted supplier for Ship spares. Starting with a small office, it has now 2 huge ware-houses with Stocks of Second hand and NEW Ship spares ready to deliver to its clientele at any call and at any port in Gulf and abroad.
With its procurement offices already open in India, Bangladesh and Pakistan, engineers and technicians do a careful job to select spares after careful inspection & testing.

SEA MASTER started off with mere providing ship spares to its client.
Later it expanded its activities to Bridge Equipment repairs for Radars & navigation equipments and workshop repairs to Machinery Spares. On understanding with well renowned Workshops having international reputation, spares are carefully tested and repaired as needed.

We can provide you with New & Second Hand Ship Main Engine Parts, Aux Engine Parts, Oil Purifiers, TurboChargers, Air Compressors, Hydraulic Equipments, Governors, Bridge Equipments, Container Lashing, Cylinder Cover, Valve Cage, Generators, Hydraulic Motor, Liners, Pistons, Oil Water Seprator, Pumps, Turning Gear, Auto Pilot, Gyro Compass, Radar, Life Rafts.
Company advs:
Sell

Bergen KRG 6 Diesel engine used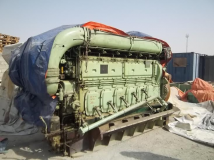 Year: 1992.
Speed: 750 RPM.
Expected Price is. USD.23,000/- Ex Works. UAE.