Skanda Maritime Engineering Co. (SMECO)

Company Strengths
Reconditioning, Ship Repairs & Marine engine spares & Gensets & Engines (Complete)
& Valves & Filters & Heat exchangers, Coolers, Pumps & Electrical Motors, Purifiers
& Turbochargers, Life boats
Company Data
Profile: Seller / Repair
Situation: India.
Region of activity: Worldwide


About Company

Skanda Maritime Engineering Co. (SMECO) is a leading worldwide supplier of marine spare parts, ship machinery, nautical & safety equipments. The organisation has its origins dating back to 1912 and is based at Gandhidham, the port town of Kandla.
SMECO specializes in sourcing, trading and export of quality marine equipments. We're investing in new spare parts, used machinery and reconditioned equipments sourced from specialist manufacturers, ship breaking yards and disposal sites around the world. New / Used equipments and spares are available from both stock and our suppliers at short notice, ensuring that we deliver time-saving and cost-effective solutions. We also offer reconditioned equipments and spares on exchange basis which save our customers the downtime in repairing their worn out units as well as the higher cost of acquiring new sets.

Services:
- Ship Repairs
- General Fabrication
- Reconditioning

SMECO offers a comprehensive range of deck and engine room machinery and also navigation and safety items.
Company advs:
Sell

MAN B&W L80MC / MAN B&W S80MC Diesel Engine spares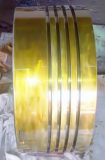 Reconditioned piston crown - 1 PCE.
All 4 grooves std size 14mm. Ex Works.
Reconditioned by Azuma Engineering exhaust valve spindle - 2 PCS.
These parts are compatible for both engine types - MAN B&W L80MC and MAN
B&W S80MC.