Theriault International Ltd.

Company Strengths
Marine engines & Marine transmissions & Marine gensets


Company Data
Profile: Seller / Repair
Situation: Canada.
Region of activity: Worldwide


About Company

We are a team of international Marine professionals with many years of hands-on experience in various commercial marine environments (40+ countries). We enjoy what we do and take pride in giving our clients from all over the world the best possible service!
We specialise in custom designed/build drydocks, barges, supply vessels and fishing vessels Maintenance and makeovers.
Theriault International Marine is an international supplier of maritime and industrial markets with used, Rebuilt and New Surplus diesel engines, generator sets, gearboxes. We have Internationally shipped successfully to over 100 countries specializing is minimizing maritime industry downtime.

Products:
1. Marine engines
2. Marine transmissions
3. Marine gensets

Services:
1. Maintenance
2. Repair and Inspection
3. Generator and Engine Consulting
4. Shipping
5. Polishing and Cleaning Service
6. Vessels and Equipment
Company advs:
Sell

Caterpillar 3516 STD Diesel Engine for sell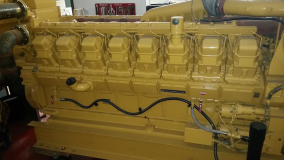 Serial ¹ 25Z01100. 436,9 working hours. There are 3 pcs: in Texas,
Winsconsin and Alberta. Price from 193,000 to 212,000. Less than 1500
hours.