HANSHIN Diesel Engines and Spare parts
Hanshin Diesel is a very well known Japanese Engine manufacturer. They produce 4-stroke low speed diesel engines of own design: LA series - LA28G, LA32G equipped with a reversing gearbox, LA34 (G) - with gearbox and without gear box.
LH Series with a Hydraulic Reversing Gearbox - LC26G, LH26G, LH26AG, LH28G, LH31G
LHL Series - LH28L, LC28L, LZ28L, LH30L, LH32L, LH34L, LH34LA, LH36L, LH36LA, LH38L, LH41L, LH41LA, LH46L, LH46LA.
All engines are in line 6 cylinders diesel.
Medium Speed Diesel Engine MX and MUH Series - 6MX28 6 cylinder, 8MX28 8 cylinder, 6MUH28A 6 cylinder.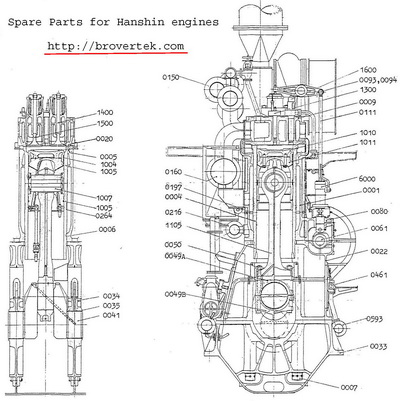 Hanshin 6LU 54 diesel - Section View with parts numbers.

Brovertek and our partners offers the new replacement and recondition big parts (Cylinder liners, pistons, cylinder covers and so on) for the following Hanshin diesel engines:
LU24, LUS24
LU26, LU26G, LUD26, L26BGSH, LH26G
LU28, LUN28, LUS28, LF28LRG, LH28RG, LH28RG, LF28RG
EL30
LH31G
EL32,LUD32, LU32, LU32G
LH34LA
EL35, ELS35, LU35
EL38, LU38, LUS38
EL40, LU40, LUS40
LH41
L43SH,
EL44,ELS44
L46SH, LU46A, LUS46
LU50, LF50
LU54
Hanshin diesel engine new and recondition spare parts offers.