Marine Separators Westfalia and Spare parts
We and our partners offer Westfalia and Mitsubishi refurbished or used fuel and oil purifiers complete and spare parts for the following models:
WESTFALIA separators: OSA 20-02-066, OSA 35-02-066, OSA 7-02-066 | OTA 7-00-066, OTA 14-00-066 | SAOG 3016, SAOG 5016 and others.
MITSUBISHI separators: SJ-700, SJ-2000, SJ-3000, SJ-4000, SJ-6000, SJ-8000 | SJ-10T, SJ-11T, SJ-15T, SJ-16T, SJ-20T, SJ-25T, SJ-30T, SJ-40T, SJ-60T | SJ-10F, SJ-15F, SJ-30F, SJ-40F, SJ-80F, SJ-100F

When you send your inquiry, please specify the address of delivery. Sometimes it can be important. For instance, you need the separator in Holland. We count what is more profitable for you. Maybe a little bit more expensive purifiers from European stock is more profitable than delivery of the cheapest separator from Asia.
Sell

GEA Westfalia Separator OSA, OSB, OSC (used)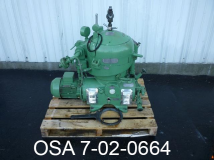 - OSA 20 Diesel Oil Separator Centrifuge: Max bowl speed - 7510 rpm, Direct drive configuration 11 kW... (15 hp), 240/380/440/3/60 drive motor.
- OSB 35 Oils Separator Centrifuge, OSC 4-02-066 Mineral Oil Separator, OSC-50 Lube Oil Separator&Centrifuge, OSA 35.