MAN Nutzfahrzeuge AG High Speed Diesel Engines and Spare parts
We and our partners offer the spare parts for the following MAN high speed Marine and Industrial engines: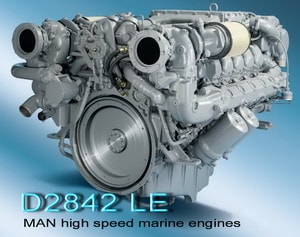 D0836 LE401 / LE402, D0836 LE301

D2530 ME/MTE, D2540 ME/MTE/MLE, D2565 ME, D2566 ME/MTE/MLE

D2840 LXE/LE401/402/407, D2840 LE403, D2840 LE 2..., D2840 LE423, D2840 LE301, D2840 ME/LE

D2842 LYE/LZE/LE401/402/403/406/408/411/412/413, D2842 LE404/410/414/415/416/417, D2842 LE602/604/606/607, D2842 LE2..., D2842 LE409, D2842 LE423/433/443 (CR), D2842 LE620, D2842 LE301, D2842 ME/LE

D2848 LXE/LE401/403/405, D2848 LE403/405, D2848 LE 2..., D2848 LE423

D2866 LE4.., D2866 LE2..., D2866 LUE/602/605, D2866 E/TE/LE, D2842 LE

D 2876 LE301/403, D2876 LE101/103/104/105, D2876 LE401/402/404/405, D2876 LUE601/602/603/604/605/606, D2876 LE201/202/203, D 2876 LE423

Very important notice.
MAN engine serial number is absolutely necessary information for correct identification spare parts.

Point in your inquiry the engine model and serial number of the engine. It is obligatory. There were a lot of modifications. Because of that each engine has individual spare parts catalog. If you don't have catalog or it has been lost write to brovertekgr@gmail.com. We can help.

The serial number must contain 14 numerals - 63008531140850. The zeros to be add to the beginning of shorter number. The order number has the form 5653546 / 000002.


MAN Nutzfahrzeuge AG Diesel engine complete and spare parts offers